Ack! Mimi-chan, you changed your name!
Ah well, it's cute.
Anyway, I thought I'd update about the status of the game as I know it. Obviously the loss of everything on Danny's harddrive was a
significant
set back, but that doesn't mean that we're giving up on this game!! So, this is what's going on right now:
I am currently remapping all of Tokyo and am trying to make it look as PGSM-ish as I can. The buildings are still being based off those in Another Story but are in the process of being edited (heavily) to look... well, prettier. I'm working on this almost around the clock and expect to have the bulk of it done in the next week or so. The interiors of the buildings will probably take an additional week to finish up. So far the new Tokyo features: All the inner senshi's homes, Juuban Middle School, the hospital, Crown Karaoke, an arcade, the train station, the basket ball park featured in episode 6 (complete with graffiti and all), a department store, bakery, post office, cafe, library, and cd store, just to list a "few". This part of the project is key right now, as Danny can't do much else without the map. Once this is finished, she'll be able to move on with the game again.
Other things I've been working on recently include spriting better portraits, reworking henshin sequences to be more accurate to the series, and spriting of items and accessories that may be featured in the game. (I usually work on this stuff when I'm tired of looking at the buildings in Tokyo).
So, in conclusion of this post, I leave you with some mock screenshots I've made of my progress. Enjoy!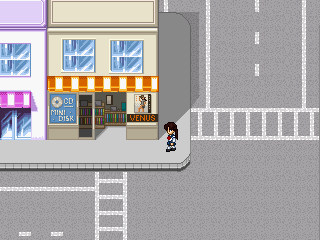 The CD store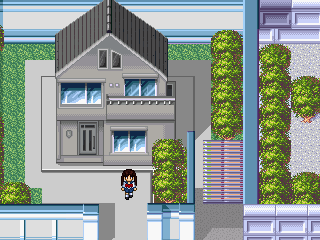 Usagi's house (the rest of the neighborhood is still unedited)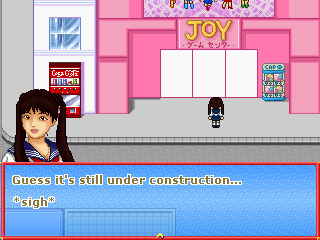 The arcade in progress